Those of us who live in or around Harrisburg for any length of time have seen farm fields turn into foundations over the past two decades. If you aren't one of the original 558 residents who were here in 1980 or a descendent of them, driving past the many subdivisions in the community may not give you pause, but some of those residents may have "walked beans" where your house now stands or could drive 55 MPH all the way to 57th Street without stopping.
A Quantum Leap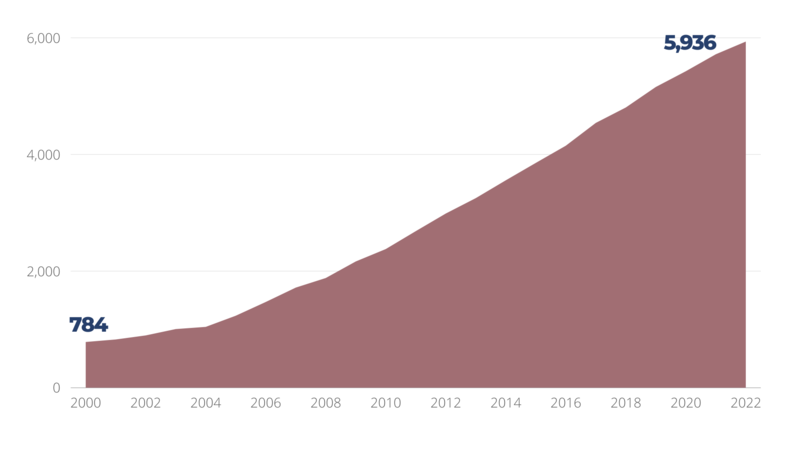 Our District has seen a 629% increase in student population over two decades, much of the growth in southern Sioux Falls, but also expanding into Harrisburg. The Harrisburg School District's boundaries cover 70 square miles, stretching west of I-29, north as far as 57th Street in Sioux Falls, east to Iowa's border, and south to 276th Street.
The single K-12 building that served the District for over 100 years has expanded to 13 buildings in the last two decades. In 2002, a new high school was built on South Cliff Avenue. The school board realized a new elementary school would quickly be needed, and while Explorer Elementary's location in the northwest corner of the District may have seemed like an odd choice at the time, it soon became surrounded by houses and apartments, opening in 2005.
The continued development of new neighborhoods resulted in an expansion at the new high school to also include 8th graders, and the construction of Journey Elementary which opened in 2008. In 2009, Harrisburg High School at its present location opened with 425 students in total, and the previous high school location transitioned to Harrisburg Middle School. Since that time two additional expansions at the high school were constructed to accommodate increasingly larger class sizes coming up through the ranks, as well as an alternative school.
Between 2011 and 2020, four additional elementary schools have been built. In 2013, North Middle School opened, and Harrisburg Middle School became South Middle School.
Both East Middle School and Freshman Academy are currently under construction to relieve overcrowding at the high school and both middle schools and are expected to open in the Fall of 2023.
Staying Ahead of Growth
With every new building, the school board and administration have anticipated future growth. The school board's commitment has always been to build the right size at the right time, without raising the mill levy and imposing any new burdens on taxpayers. The District has been able to do this through the continued growth in property valuation with the addition of new neighborhoods and businesses coming into the community.
Through the passing of bond elections, Harrisburg School District citizens have shown they value the District's foresight to stay ahead of growth and provide quality learning facilities for students. The time is now to address the needs of students in the southernmost portion of the District.
Current Challenges in Southend Schools
Liberty Elementary is at capacity. Over the course of 100 years, Liberty Elementary was expanded with no fewer than eight additions, creating a multitude of wings. Classrooms in the building average about 720 square feet, while more modern classrooms in the District are about 25% larger. Recent school designs make better use of space and scheduling of those spaces, and include common learning areas. Though smaller classrooms do accommodate early childhood education well with smaller bodies and class sizes, it does create a disparity between the upper elementary grade students' learning environments around the District.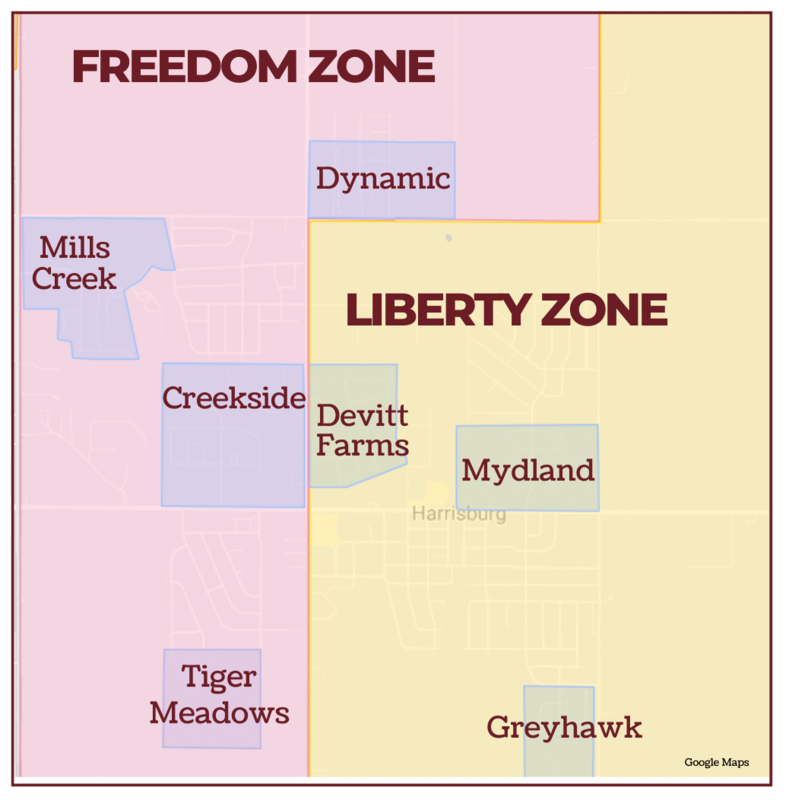 The four subdivisions currently underway in this school zone will also push Freedom toward capacity in the near future. Three of the seven subdivisions are located in the Freedom school zone, accelerating the need for additional space. Last year the Tiger Reserve program was moved to Adventure to make more room at Liberty. Additionally, Head Start was moved from Liberty to Freedom, which at the time, had the space needed to accommodate the program.
What can be done to maximize the use of current facilities while building the right size at the right time without raising taxes?
The District and school board will hold two public meetings in August and will consider holding a bond election this fall for the construction of a new elementary school.
How would building a new school for Liberty students help with two schools being at or near capacity?
The new elementary school would house 1st/2nd Grade through 5th Grade while the currently Liberty building would be converted to an Early Childhood Center with our Pre-K, Head Start, Kindergarten and possibly 1st Grade programs being held there. Making these changes would give Freedom immediately more space by moving the Early Childhood programs back into the current Liberty building.
Why does this plan work?

No new boundaries would need to be drawn to elementary zones.
Equitable facilities for Liberty students.
The new building would be built with the future in mind as a future K-5 school if/when needed.
Utilizing current building for Early Childhood makes the best use of classrooms with smaller class sizes and smaller bodies.
HSD's commitment to a tax levy of less than $12.00 per $1,000 has been honored for over 20 years. This plan would not result in an increase of taxes.
Why split the grades instead of building a new school with new boundaries?
Dividing grades would give Freedom more room immediately and keep Liberty and Freedom students in their current school boundaries with their peers. Liberty's current upper elementary students will also benefit from larger classrooms.
What if families have children in both buildings?
The District has plans to shuttle students between the new school and Early Childhood Center for ease of drop-off and pick-up for parents with students at both locations.
Why not just tear down the old building and put up two new ones?
Demolishing the original school building and replacing it on the current campus would not be feasible economically, logistically, or in the spirit of preserving the heart and soul of what has made Harrisburg what it is today. Building two schools simultaneously would result in raising taxes.
Are there other advantages to this plan for the District?
This plan would allow administrative staff to be housed together, opening space at other buildings while increasing efficiency and collaboration. Administrative offices would be relocated to the north wing of Liberty Elementary.
With the consolidation of administrative staff, outbuildings situated in the SE corner of the Liberty campus could be sold as part of a revitalization of the downtown Harrisburg corridor, with interested developers having already expressed interest in the opportunity.
Are there advantages for community members?
A unique opportunity exists for the Harrisburg School District and city of Harrisburg to create a partnership that would serve both entities and their patrons well into the future. Under a long-term lease with the District, city staff would have turn-key office spaces, meeting rooms & city council board room by taking over the current District central office wing. This plan would allow the city to utilize capital funds for infrastructure needs and have the potential to sell the current city Hall if desired, adding to the revitalization of downtown Harrisburg.
The community would have access to shared-use spaces including the Gym, Commons, and current Band Room during non-school hours.
This would allow the District and/or city to offer Community Education classes, community event meeting locations, and indoor walking spaces, long-standing desires of both institutions.
Another advantage would be a decrease in traffic on Willow Street during peak hours. This plan would also allow us to put in a track at SMS as well as renovate the commons area to better accommodate meal times and group activities for students at South.
Can't the city just build its own community space?
Combining resources between the District and city is a better use of taxpayer dollars than separate projects with separate price tags. It also lends itself to unlimited potential for the future of Harrisburg's downtown corridor and future opportunities for business and community growth.
What would the timeline for this project be?
Timeline:
Winter 22/23 - Design Phase
Spring 2023 - Construction of New Building
Fall 2024 - Opening of New Elementary; Liberty becomes Early Childhood Center
Fall/Winter 2024 - Renovation of Liberty North Wing for Administrative Offices
Spring/Summer 2025
City of Harrisburg moves into Liberty space; HSD Administrators move into North wing of building
Together we can address the immediate needs of both the District and the City while planning for future growth in a fiscally responsible manner.